📢아래에 한국어, 영어, 일본어, 중국어로 공지 내용을 확인하실 수 있습니다.
📢You may check the announcement in Korean, English, Japanese, and Chinese below.
📢下記に韓国語、英語、日本語、中国語でお知らせの内容をご確認いただけます。
📢下面可以用韩语、英语、日语、中文确认公告内容。
---
<한국어>
🐯한국어센터 열린도서관🐯
📚책 소개 이벤트📚
한국어센터 한국어교육관 열린도서관에서 책도 읽고 기념품도 받아 가세요!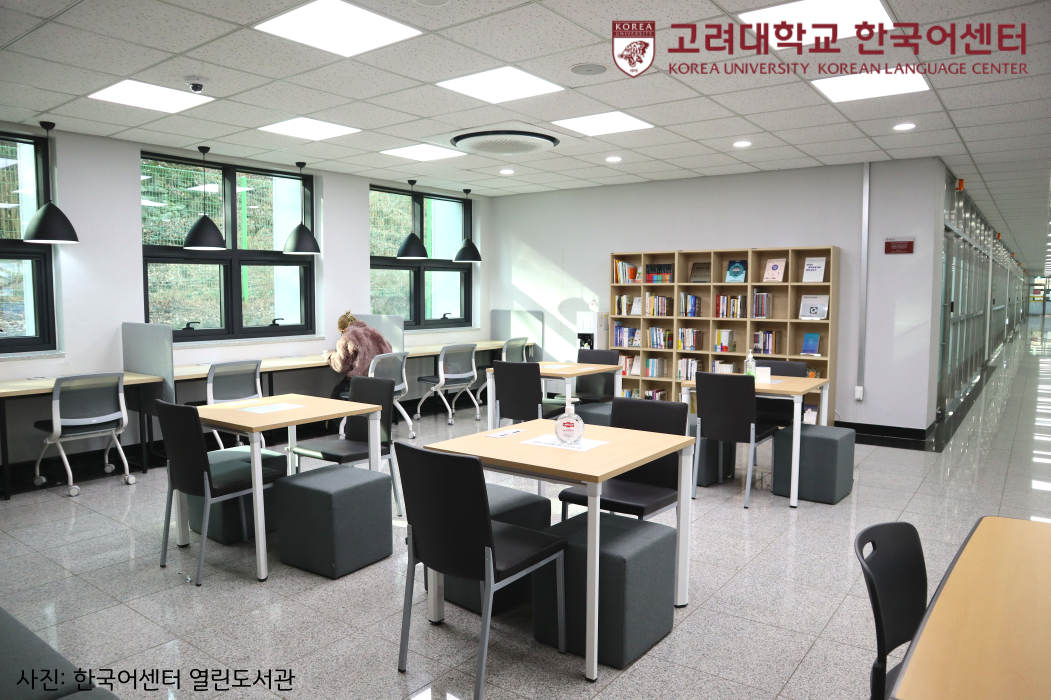 ✔참여 방법:
1. 한국어교육관 1층 열린도서관에서 서가의 책을 읽는다.
3. 소감문을 이메일(korean@korea.ac.kr)로 제출한다!
✔기념품 전달: 6월 중 개별 연락 및 전달

---
<English>
🐯Korean Language Center Open Library🐯
📚Book Introduction Events📚
Come to the Open Library in the Korean Language Center, read books and take souvenirs!
✔How to participate:
1. Read the book in the Open Library on the first floor of the Korean Language Education Center.
2. Write <Impression Letter>(attached file).
3. Submit your <Impression Letter> to korean@korea.ac.kr !
✔Eligibility: Korean Language Center current students/Alumni
✔Participation period: ~ May 31th, 2023
✔Souvenir delivery: we will contact you individually and send the souvenir in June.
<日本語>
🐯韓国語センターヨリン図書館🐯
📚図書紹介イベント📚
韓国語センター韓国語教育館のヨリン図書館で本も読んで記念品も受け取ってください!
✔参加方法:
1. 韓国語教育館1階のヨリン図書館で棚の本を読む。
3. 感想文をEメール(korean@korea.ac.kr)で提出する!
✔参加対象: 韓国語センター受講生/修了生
✔参加期間: ~5月31日
✔記念品の伝達: 6月中個別連絡及び伝達
<中文>
---
🐯韩国语中心开放图书馆🐯
📚书籍介绍活动📚
在韩国语中心韩国语教育馆开放图书馆读书后,领取纪念品吧!
1. 在韩国语教育馆1楼开放图书馆阅读书架上的书。
3. 感想请通过邮件(korean@korea.ac.kr)提交!
✔参与对象: 韩国语中心在校生/结业生
✔参与时间: ~5月31日
✔纪念品发放: 6月中旬个别联系及发放